In 2009, the idea of a world record was born in Rijssen, Netherlands. 750 m² of area were painted, and we got an entry into the Guinness World Record Book for the largest 3D painting.
The square was 750 m². It was particularly difficult to get this all in one photo. A help was already that the viewpoint was 15 meters above. However, someone had to hang a camera in front of the window, so that not always the window frames can be seen in the photo.
The group consisted of: Marion Ruthard, Ruben Ponica, Remko van Schaik, Leon Keer, Peter Westerink and myself, and we had support from the two very dedicated event managers Johnny and Agnes. More information can be found at www.mega3d.nl
---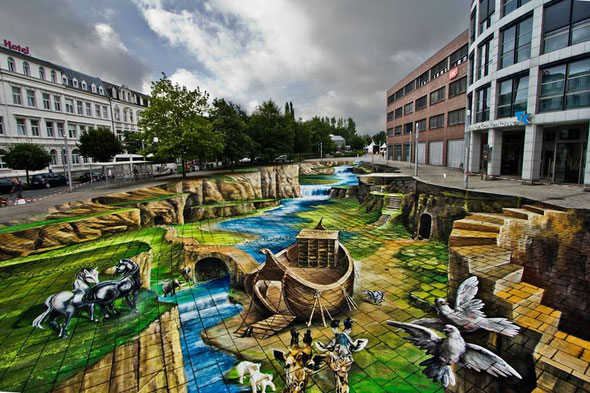 In 2012, I broke my own world record by painting 1 570 square meters on the Valoisplatz in Wilhelmshaven with Lydia Hitzfeld, Melanie Sieger and Vanessa Hitzfeld.
---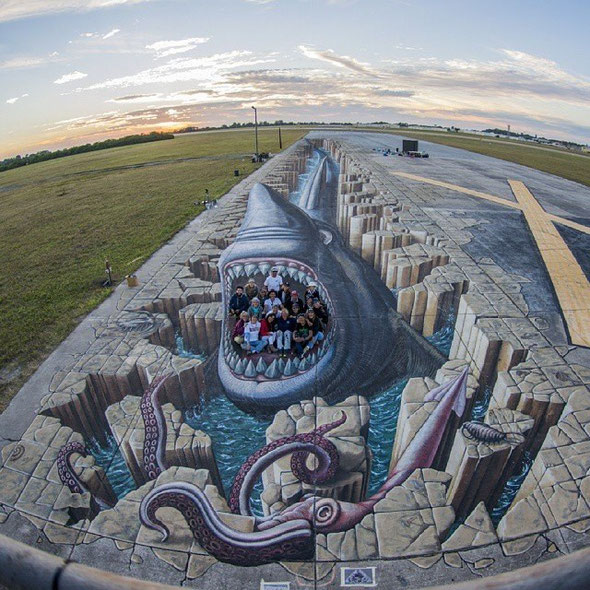 In 2014, Marion and I were part of the group, which has reversed my last world record by about 200 m². The event took place on the old airport grounds of Venice / Florida and was the highlight of this year's Sarasota Chalk Festival, organized by Denise Kowal.
This time, it was a completely different approach. The sketch was from Kurt Wenner, that is very detailed up to 150 meters away. As a result, much more painters were needed than in our designs, which were then completed in 12 days. On average, about 20 professional painters and 10 volunteers worked on the painting every day
In the photo you can see Marion and me on the first day in the opening group. The technical director was Julie Kirk. Her task was to bring together a large number of qualified painters from all over the world, so that no one lost himself in his own style, but everyone followed the sketch of Kurt Wenner, so in the end we got a wunderful uniform picture.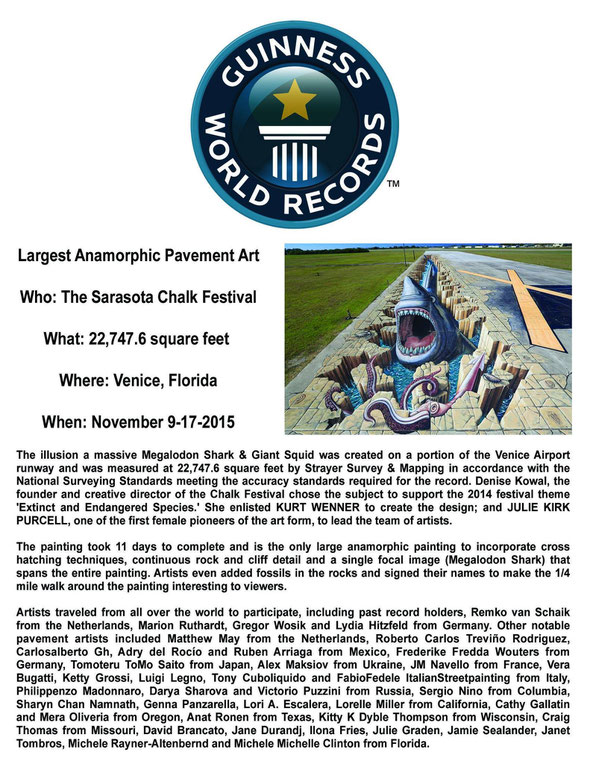 They all adapted, because it quickly became clear that the world record was only a side effect. Basically, it was a wonderful experience to work with the colleagues from about 18 different countries in a cheerful and peaceful atmosphere under the sun of Florida.
Denise Kowal is also never tired of emphasizing that she considers her festival to be a complete work of art.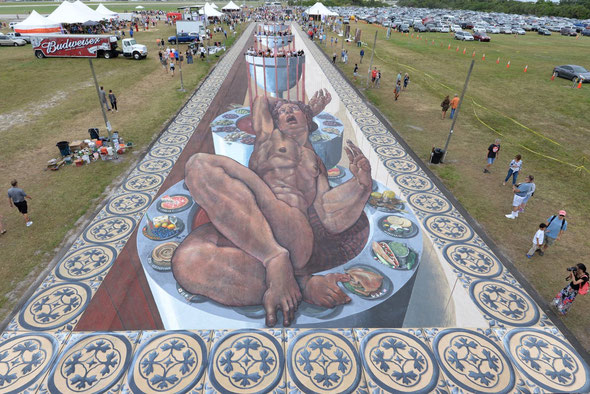 Chalkfestival Venice Municipal Airport 2015.
We were shocked: the same again! Again a world record, according to Kurt Wenner's sketch! This time he was now on site.
Next shock: Kurt Wenner was a little sick, and Julie Kirk-Purcell, the director of the previous record, was not there, so Marion and I should lead the individual artists! Great difficulty because my English is a bit confused, but quickly it turned out that half of the present artists also did not speak English and only 4 of the 25 artists had experience with 3D art.
Despite these challenging conditions, we just started. And it was just great how the group grew together. People understood each other well, despite the language difficulties, because everyone felt and shared the same. After a few days, the group of Italian 2D painters had learned a lot and took responsibility themselves. It was a wonderful development. In the morning 15 minutes Tai Chi under the guidance of Andrea Libretti from Italy, in the evening a salsa course by Nancy Garca from Mexico rounded off the work.
We also came closer together, as terrorist attacks were happening in Paris (November 13, 2015), and of course sympathy was shared between Basil and Jamila Garcia, both North Africans living in France. In the end, it was completely unimportant whether a world record was achieved with size, it was a great, international work of love, friendship and creativity.
Picture 1: All listen to the Maestro Kurt Wenner. Thank God, he felt better after a few days. Then it also helped a lot, that he spoke besides English also Italian and German.
Picture 2: Full pride, our names under the great work!
Picture 3: Each country should be painted nationally on the plates. Marion and I as the only German painted simply what we like to eat and also attractive to paint
Picture 4: Here I dance on the nose of Bacchus. The theme of the Chalkfestival was "eat, drink and be merry", therefore the god of wine, which reefs in a wine fountain. Thank you, Denise Kowal, founder of the Chalkfestival, for this great opportunity to create something great under the sun of Florida!